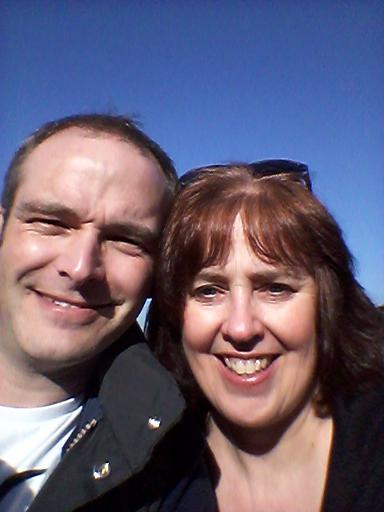 Me with my wonderful husband who puts up with my crafting mess
all over our home as it frequently migrates from my craft room!
Each card is designed and created by myself, Janet Bower.
I am married with 2 daughters and live in the Littleborough area, North East of Manchester - almost on the Lancashire/Yorkshire border.
I was a nurse until mid 2015 and have now completely changed and become Outreach Coordinator for Smithy Bridge Methodist Church. This currently involves managing The Bridge Centre; a local community centre, housing a cafe and charity shop and running Bridge Tots (a Toddler group for the under 3's)
My enjoyment of crafts started at a young age when I learnt to knit, sew & cross stitch. Slowly I began to take an interest in card making and my first few were cross stitch or embroidery pictures. I then moved on to decoupage (layered) images but back then it wasn't so popular and my first cards were the produce of cutting out images from wrapping paper and layering them up. Over the years the craft products and materials available have increased dramatically and the resulting finished products are much more pleasing on the eye. My bank account and craft room regularly cry out from all my purchases & the poor postman suffers too!
I have learnt from experience that card making is an addictive and totally absorbing hobby. My crafty stash has increased massively and now takes over a whole room in the house and very often spills out into other rooms too!
I take pride in not using any one particular style for my cards in order to ensure I have something that will suit most people's tastes. So as you will see in my displays, my craft fair stalls and my on line pictures there is a wide variety of cards, from humourous, to floral, from simple, to elaborate and for all occasions.
I do hold a selection of cards for various Christian celebrations, covering all denominations, as I am aware that these are more difficult to source on the high street. So if you're looking for a baptism or a dedication card, a 1st Holy communion, ordination or a confirmation card, look no further.
Every card I make can easily be made personal by printing a name, date, weight (in the case of a new baby of course!!) and any special wording can be added. Please just let me know at the time of ordering what you would like included.
I look forward to your custom.
Janet